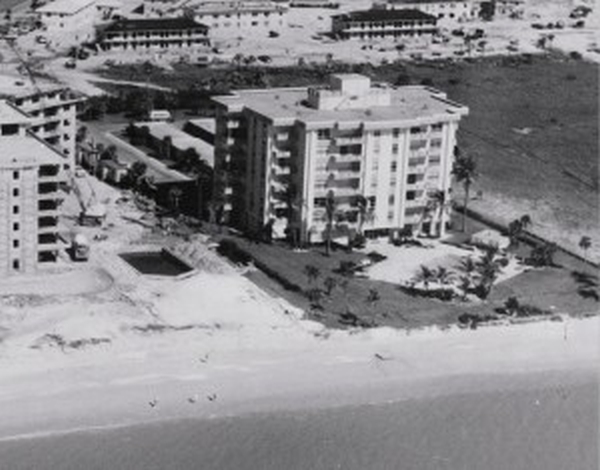 Emerald Beach Condominium, the first high-rise on Marco Island, was developed by Florida's Mackle Brothers of the Deltona Corporation who blended the island's great natural beauty to a master plan for tropical living. Designed by Herbert Savage and Jim Vensel, chief architects for Mackle Brothers, this landmark building has a feeling of openness with a glass-fronted entrance and a sight line that leads the eye through the social room and large pool to the beautiful beach view beyond. This idea was continued in the layout of the apartments as six of the eight apartments on each floor have an ocean view. Developed shortly after the Voyager Hotel, which is the current Marriott, Emerald Beach cost $1.5 million to build and sold out within a year. When opened in 1966, Emerald Beach prices ranged from $19,900 to $49,500 depending on which floor, size, and view the apartment commanded.
Meanwhile, the rest of the island was being developed according to a five-phase master plan drawn up in 1964. Using a dredge and fill technique, land and waterways were carved out of the mangrove swamps. Because they were not native to the swampy soil of Marco, palm trees were hauled in from Key Biscayne and planted on the island. The salt marsh mosquito population problem was solved by building a series of dikes that kept the tide water at bay and eliminated their breeding habitat. Following the plans, roads were constructed, water and sewer installed, home sites developed, and an airport, professional golf course, and yacht club were built. A shopping mall, post office, and churches soon followed.
Even though the island is continuing to change and evolve, Emerald Beach has withstood the test of time and maintained its place in Marco Island's history.